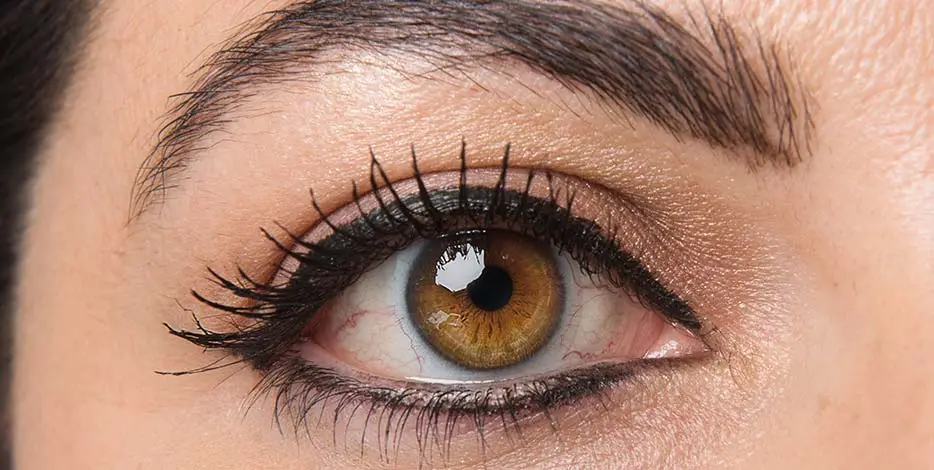 About Blepharoplasty
Blepharoplasty (Eyelid Surgery) is a surgical procedure performed to improve the cosmetic appearance of the eyelids. It is also known as eyelid reduction or eyelid surgery.
Blepharoplasty improves hooded or drooping eyelids or eye bags by removing excess fat or skin. The aim is to reduce the signs of ageing around the eyes and create a more youthful, refreshed appearance.
Blepharoplasty is one of the most common functional and cosmetic procedures performed in facial plastic surgery. The recovery time is short, and the procedure is low risk. An eyelid lift can be performed on the upper, lower, or both eyelids.
What is the difference between upper and lower blepharoplasty?
Blepharoplasty can be performed on both the upper and lower eyelids. Furthermore, some patients may benefit from both procedures to tend to their concerns.
Upper Eyelid Blepharoplasty
Blepharoplasty can be performed on the upper eyelids for both cosmetic and medical reasons, to remove excess/droopy skin and fat, resulting in a more youthful appearance and enhanced vision.
Lower Eyelid Blepharoplasty
Lower eyelid blepharoplasty is performed to improve the appearance of dark circles, hollow under-eye regions, and eye bags. Miss Hawkes can also perform a 'fat transfer', which includes the repositioning of existing fat, to create a more youthful appearance under the eyes.
Why undergo eyelid surgery?
The eyes are the most important feature of the face. They display emotion and expression, but they are also the first part of the face to show signs of ageing. Because of their structural complexity and function, the eyelids are also one of the face's most delicate areas.
The presence of fine lines, excess skin, and 'eye bags' can give the appearance of tiredness and an ageing face, which is the most common reason patients seek eyelid surgery. Most patients wish for a more youthful appearance.
In some patients, the eyelids may be asymmetrical. In these cases, blepharoplasty may be performed to improve symmetry.
Excessive, overhanging skin may obscure the field of vision in some patients. Patients who are affected may not be able to see their entire field of vision. Therefore, eyelid surgery can be performed to remove the obstruction and improve vision.
Upper and lower eyelid blepharoplasty remains one of the most popular cosmetic procedures. A specialist in ophthalmic plastic surgery, known as an oculoplastic surgeon, is the most experienced and best suited to perform this kind of surgery.
How long do results last?
Blepharoplasty is a long-term procedure that produces excellent, natural-looking results. It can give you a younger appearance by improving the cosmetic appearance of your eyelids. The full effect, however, does not last forever. The natural ageing process will continue.
While results vary from patient to patient, most people are satisfied with their blepharoplasty results for 10-15 years.
Most patients don't have a second procedure because they're so satisfied with the results of the first one.
Why should I choose Miss Hawkes for blepharoplasty?
Miss Elizabeth Hawkes is a consultant ophthalmic surgeon, oculoplastic surgeon and experienced cosmetic doctor. Natural enhancement of the face and eye is paramount to Miss Hawkes. She boasts an extensive knowledge of the delicate eye area, forehead and face. Miss Hawkes provides treatments in a safe, medical environment at the award-winning private London clinic, the Cadogan Clinic.
Visit her YouTube channel to see Miss Elizabeth Hawkes perform Upper Eyelid Blepharoplasty Surgery.
Blepharoplasty Before & After
Before & After, Example 01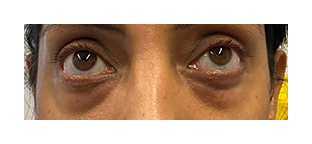 Concern: Revision lower eyelid blepharoplasty. Initial blepharoplasty was performed elsewhere.
Procedure: Surgical redo and revision performed by Miss Elizabeth Hawkes.
Before & After, Example 02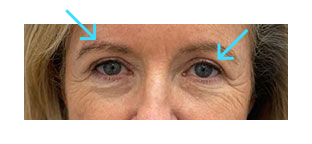 Concern: Heavy upper eyelids, tired appearance of the face and low right eyebrow.
Procedure: Right direct eyebrow lift and bilateral upper eyelid blepharoplasty
Before & After, Example 03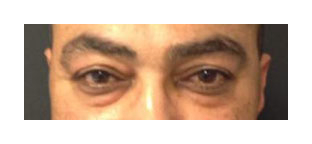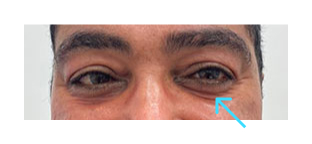 Concern: Lower eyelid puffiness and appearance of 'eyebags'
Procedure: Lower eyelid transconjunctival blepharoplasty surgery
Before & After, Example 04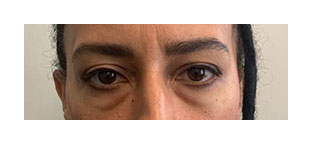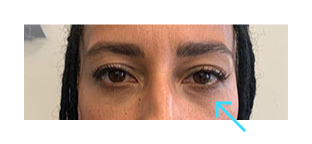 Concern: Lower eyelid puffiness and prominent tear trough. Listed for transconjunctival (scarless) lower eyelid blepharoplasty surgery and fat transfer/redraping
Procedure: Lower eyelid blepharoplasty surgery
Before & After, Example 05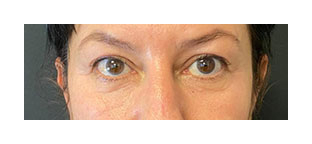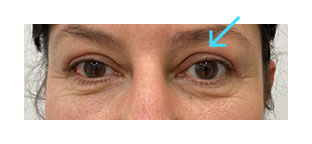 Concern: Upper eyelid heaviness and hooding underwent upper eyelid blepharoplasty surgery.
Procedure: Upper eyelid blepharoplasty surgery.
Before & After, Example 06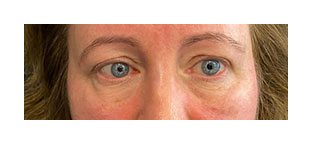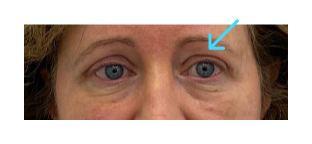 Concern: Heavy upper eyelids, tired appearance of the eyes
Procedure: Upper eyelid blepharoplasty surgery
Before & After, Example 07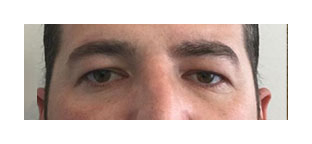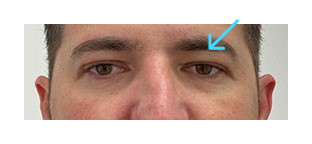 Concern: Heavy upper eyelids, tired appearance of the eyes and face
Procedure: Upper eyelid blepharoplasty surgery